Services & Supplies
Vesstech Group
The idea of VessTech Group arose from the necessity to provide the best quality service at a competitive price. It was the intention of the company's founders to create a flexible team of professionals who can meet rising requirements of maritime industry. Judging by the satisfaction of our customers, we assume that we are on the right path to succeed.
VessTech Group specializes in various services required by the vessels in order to keep their seaworthiness. Whether it is overhaul of main engine, redesigning electrical systems onboard, emergency welding repairs after vessel's grounding or purchase and installation of ballast water treatment unit - VessTech Group manages to deliver satisfactory solutions.
VessTech Group's representatives are available to discuss your requirements and demands. Please feel free to contact us.
Our services
1
Electrical Department
Experienced team of electricians specialize in all kind of electrical maintenance and repairs performed onboard vessels.
2
Mechanical Department
Reconditioning services for ship's equipment losing efficiency through wear during normal operation as well as emergency repairs in case of machinery breakdown.
3
Welding Works
VessTech Group offers extensive range of welding services including modifications, repairs and sectional replacements of steel structure onboard vessels.
4
Ship Supplies
The highest quality provisions and technical stores available 24/7/365 at the most competitive prices make VessTech Group not your average ship supplier.
Ballast Water Treatment Systems
Ballast Water Treatment Systems
We provide the whole package
From providing the right ballast water treatment unit, through designing the most convenient place for installation, to prefabricating the best quality materials and performing professional installation and commissioning of the unit - VessTech Group is your comprehensive partner in Ballast Water Treatment project.
---
Quality is non-negotiable
VessTech Group understands the requirements of the marine industry. Quality has to be the highest and performance at its best. Time is also a factor. Swift replies, 24/7 support and minimum installation time make VessTech Group a desirable partner in Ballast Water Treatment project.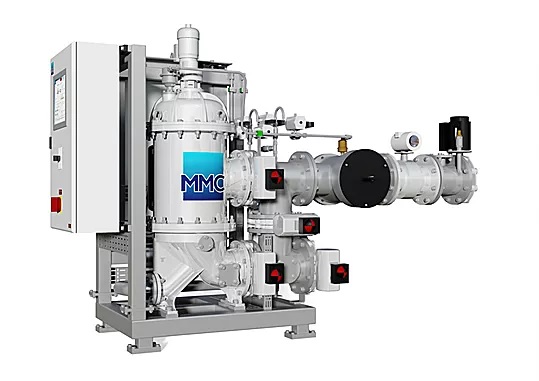 Marine Chemicals

Responding to our customers' needs, we have expanded our offer to the best quality marine chemicals. Our products are produced in Poland, meets all European standards and succesfully remove all that needs to be cleaned. Our chemical products are environmentally friendly and based on original formulas.
VessTech Chemicals are equivalent to already existing products on the marine market but with competitive price and undeniable quality.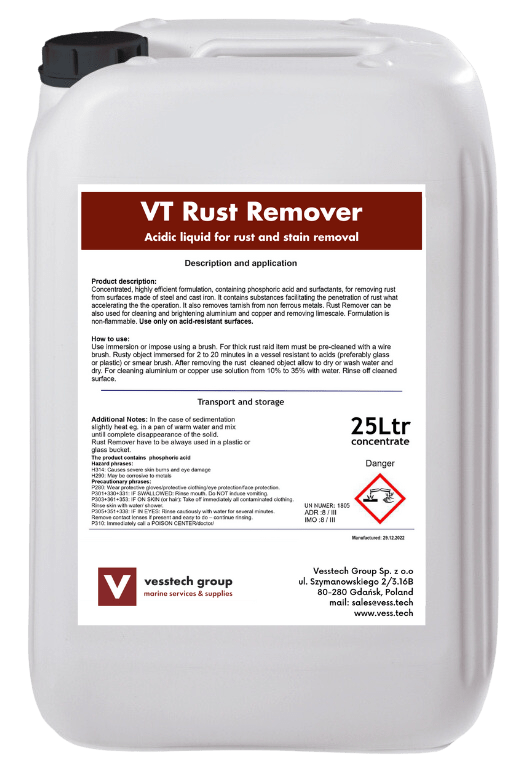 CLEANING AND MAINTENANCE

VT Multicleaner Eco

Safe, water-soluble, biodegradable cleaning agent. Removes the toughest dirt. Ideal for hand, steam and immersion cleaning. Can be used on most surfaces, including glass, metal, ceramics and plastics. It removes grease, oils, tar, asphalt, inks, wax, lubricants, adhesives, and more.

VT Envirocleaner

Neutral, safe, multi purpose cleaner and degreaser based on natural orange solvent extracts and advanced surfactant formulation. It may be used for most marine and industrial applications. Easily removes greasy grime, oil, diesel spillages, sludge, wax, carbon deposits.

VT Degreaser HD

Heavy duty water based degreaser. Highly concentrated product for removing oil-based dirt, solvent-based and orange terpenes.

VT Air Cooler Cleaner

Special waterbased, degreasing formula for cleaning diesel Air Coolers and Turbochargers. For manual cleaning or work cycle. Product contains liquid blend of solving, cleaning and anti-corrosive gents.

VT Carbon Remover

Water based, powerful liquid solvent for removing all kind of carbon deposits. Very quickly solve deposits, therefore eliminates need for hard scraping. It contains safe solvents, microemulsions and surfactants.

SCALE AND RUST REMOVER

VT Rust Remover

Acidic liquid for rust and stain removal. Concentrated, highly efficient formulation, containing phosphoric acid and surfactants. For removing rust from surfaces made of steel and cast iron. Use only on acid-resistant surfaces.

VT Descaler L

Concentrated liquid for removal of calcification resulting from the long action hard water. It leaves the surface clean without treaks. For cleaning: windows, walls, washing machines, dishwashers and other surfaces. Use only acid-resistant surfaces.

WATERTREATMENT

VT Diesel R011

Liquid corrosion inhibitor for use in closed cooling and heating water systems of diesel engines. Safe, water based, biodegradable, effective protection against deposits and corrosion stone.

TANKCLEANING

VT Tank Cleaner

Concentrated product, water-based formula based on petroleum solvents, emulsiyfing agents and surfactant. It can be used for general removal of most oil and fats in cargo, storage tank and also grease from soiled surfaces. Can be used on steel, plastic materials, epoxy and zinc coatings.

SPECIAL PRODUCTS

VT Hand Cleaner

Special product for cleaning heavily soiled hands. It removes oil, grease, tar, dirt, grease dust, rust, paints, varnishes, adhesives. Easy to rinse. Dermatologically tested. Environmentally friendly and biodegradable.

VT Ultrasonic Cleaner

Contains special low-foaming detergents and softening and complexing agent for use in ultrasonic bath. Product can not be used for cleaning parts made of zinc, galvanized parts and magnesium alloys.

VT Drain Solution

Product is highly concentrated, aerobic bacteria-enzymes mixture to remove blockages, keep clean and cure odour from all kind of plumbing systems (sewage tanks, septic tanks etc.).
COMPARISION TABLE

VT Chemicals

Marine Care

Unitor

CLEANING AND MAINTENANCE

VT Multicleaner Eco

Careclean Multiclean

Aquabreak PX

VT Envirocleaner

Careclean GP Enviro

Enviroclean

VT Degreaser HD

Careclean Degreaser GP

Coldwash HD

VT Air Cooler Cleaner

Careclean ACC

Air Cooler Cleaner

VT Carbon Remover

Careclean Carbon

Carbon Remover

SCALE AND RUST REMOVER

VT Rust Remover

Careclean Rust

Metal Brite

VT Descaler L

Careclean HD Descalex L

Descaling Liquid

WATERTREATMENT

VT Diesel R011

Caretreat 2 Diesel

Rocor NB Liquid

TANKCLEANING

VT Tank Cleaner

Carecleaner Degreaser HD

Tankclean

SPECIAL PRODUCTS

VT Hand Cleaner

Careclean Hand

Natural Handcleaner

VT Ultrasonic Cleaner

Careclean Ultrasonic

Unitor USC

VT Drain Solution

Careclean Sewage

Gamazyme BTC
IF YOU NEED ANY OTHER MARINE CHEMICALS DO NOT HESITATE TO ASK.
FOR MORE INFORMATION AND SALES PLEASE CONTACT US
sales@vess.tech
People
People in charge of daily operations.
Contact
+48 784 036 340
VessTech Group Sp. z o.o.
Szymanowskiego 2/3.16B
80-280 Gdańsk
Poland
VAT: PL5833176234